An agriculture startup has launched in Australia that helps cattlemen monitor water levels.
For decades, Central West Queensland cattle farmer Neil Rogers spent the first two to three hours every day the same way.
Waking up, getting in his car, and beginning to drive around every water tank in his Tubrack Station pastures, which is 17,400 acres, south of Longreach, to check vital water levels.
It's an expensive and time-consuming chore that has long been a fact of life and profit, because if the water levels in the reservoirs are not checked and fall below critical levels, the whole herd could be lost, leading to total bankruptcy.
Today, his daily routine looks very different, thanks to a few small sensors, the Internet, 5G technology and an iPad.
"We get up in the morning, look at our iPad and say, 'Here are our water levels.' We know where to open the taps, we know if we need to go and check something," Mr. Rogers said. – "It's saved us an incredible amount of money on running costs. It's a big help."
Bridging the Gap
Agricultural technology, or agtech, is nothing new, but far from the resources and industry of big cities on remote farms comes the innovation of a small startup from the outback.
OPS Australia is a Longreach-based startup that is partnering with local cattlemen to develop technology that controls water, fences and gates.
The company recently received $99,560 through the state government's Advance Queensland Ignite Ideas Fund, which supports regional innovators and entrepreneurs.
CEO Andrew Barton said, based on two major rural events, that agtech companies in remote areas were few and far between.
"There was Beef Week [Beef Australia] last May, and apparently there were about 70 agtech vendors there, both in cattle solutions and water monitoring solutions," Mr. Barton said.
"But when you come to Westech , OPS was the only agricultural technology provider offering smart monitoring and management solutions, and the drive between Rocky and Barsi only takes a few hours, but it seems like an amazing time.
"We seem to be the only supplier providing smart agtech services for western Queensland." – say the founders of the startup.
Mr. Barton said that's because sparsely populated areas can be difficult to service.
"It's a challenging environment. The sun is scorching, the roads are challenging, and the people are challenging," he said.
"A coastal company that develops a solution that works great on the coast usually has a problem when it goes west.
"West Queensland so often has to find solutions to meet our own needs."
Mr. Rogers welcomes the opportunity to rely on locally developed technology to solve local problems.
"When they first came up and talked about it, we all thought, 'About technology,'" Mr. Rogers said.
"Then we started talking about what they were going to do and how the world is now moving forward, and there are big pluses in all of that.
"I think it's one of the great things in the area, and the introduction of ag technology in the country, in the Central West, is the best thing that's ever happened."
Opportunities of the backcountry
Sixteen-year-old Lachie Horn, a student at Longreach State High School, said he had been interested in information technology and computers for some time, but faced a lack of opportunity to gain experience in the backcountry.
That all changed when his classmate Harrison Moore told him there was a place in town where he could immerse himself in programming and Web development.
"It's really amazing. It's a problem when you live in a rural area," Lachey said.
"You don't have all the opportunities, and I think it was a really good opportunity to get that experience because you never expect it here in a remote community."
Lachie is spending time working on a Web portal that gives property owners access to their water levels from the comfort of their homes and notifies them if those levels drop.
"I thought it would be really nice to get some of that experience, so I joined OPS, and it helped me get that experience and let me learn about web development and get a job in that field," he said.
"For locals, by locals," is what underlies Mr. Barton's vision for his startup.
"We just keep finding good people in the Central West, whether it's electrical engineers, high school students. There's a whole range, but we're really building a team of terrific locals," Mr. Barton said.
Convergence of technology and reality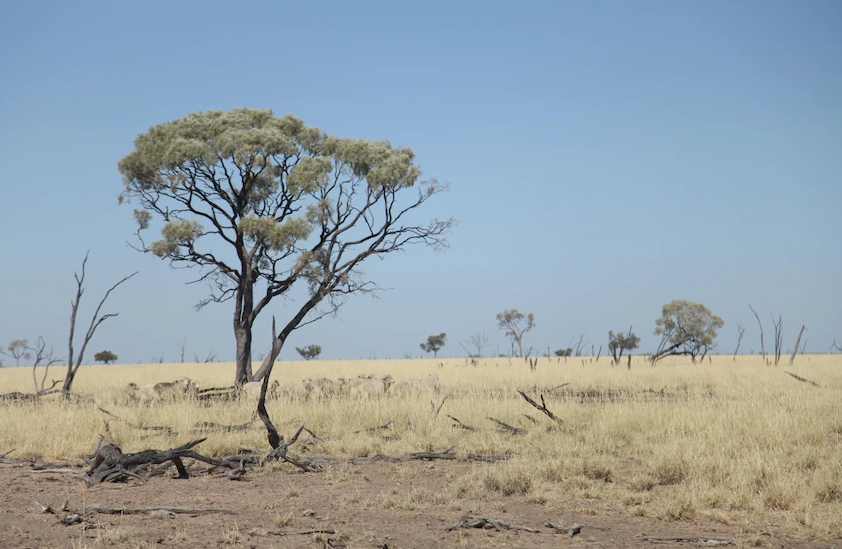 Chad Renando, a University of Southern Queensland Innovation Ecosystems Fellow at the Center for Rural Economic Excellence, said shepherds often encounter technology without understanding the nuances of the problem.
"We see people on farms learning the technology and moving into that space and becoming suppliers themselves, and people who are technologists who are actually working on the farm or in the community creating places," Dr. Renando said.
"The actual execution requires that you maintain it and be able to maintain it and deal with the inherent challenges of remote location, connectivity and Internet infrastructure.
"We need more of that."